Sessions
At Wild Reiki and Shamanic Healing we advocate a holistic, alternative approach to help you and your animal companions enjoy greater quality of life.
A Wild Way to Heal for Animals and People
A Wild Reiki and Shamanic Healing session assists in the healing process by stimulating wellness, vitality, balance, and peace. When appropriate, animal communication helps build bridges of understanding between you and your companion around what is needed, offering support for physical and emotional and behavioral issues.
Many of the animal clients that come to me are struggling with aging issues and/or chronic illness such as Cushings, kidney failure, arthritis, cancer, IBD, etc. During the many years that I have been in practice, I have seen elderly animals and animals with chronic health issues benefit greatly from a Reiki and shamanic energy healing session, which can be helpful even in the final stages of life. (But don't take my word for it, visit Testimonials to see what clients have said).
A session for your animal companion benefits both of you—relieving uncertainty and taking the pressure off you. During our time together you will be able to ask questions and receive guidance on how to best meet your animal's needs. I also offer sessions for people, too.
After an initial session, weekly or monthly on-going support sessions are available to assist in maintaining balance and quality of life while keeping the benefits affordable. Contact us for a free 15-minute consult to find the best solutions for you and/or your animal companion OR
Click here to schedule a session.
---
Frequently Asked Questions:
How can a healing session help me or my animal companion?
Injury and accidents can happen at any stage of life, and a session helps accelerate recovery and reduce trauma. Physical bodies are vessels that weaken over time. For aging animals and people energy leaks occur more frequently and energy balances tend to fluctuate more. For those with pre-existing conditions such as Cushings, cancer, diabetes, kidney disease, arthritis, etc. energetic support tends to help stabilize fluctuations, and offers support for pain, inflammation, emotional issues, etc. A session offers a complete balancing of the energy fields, resulting in better overall quality of health and sense of well-being, i.e., a return to the normal pleasures of daily life.
What issues does energy healing help support?
Accelerated healing from injury/illness
Whether the issue is chronic or sudden, energy work assists the body in doing what it does best, self-heal; accelerating healing naturally, minimizing the side effects of medications, and offering quality enjoyment of life. Our methods work in harmony with that of the medical or veterinary profession; you can have the best of both worlds and make considered choices that are right for you and your animal companion.
Aging issues
Promote relaxation and quality of life, and restore your joy or your animal's joy in daily life. Getting older does not have to mean being in pain or giving up activities that make daily life fun.
End of life issues
Offer support for quality of life, facilitate and ease the dying process and assist in transition into Spirit.
Stronger immune system
It has been proven that a strong immune system is vital to vitality and quality of life.
Clear trauma or emotional or behavioral issues
When an animal or person experiences physical or emotional trauma (death of a loved one, accident, injury, abuse), energy flow can become stuck creating repeating patterns of response, causing us to relive the original pain. Clearing these "buttons" helps resolve behavioral issues and assists us in moving forward in our lives.
Surgical support
Maximize health pre- and post-surgery with energy work. A session prior to surgery helps balances the body on all levels (mental/emotional/physical/spiritual), minimizing trauma and helping to support the surgical process. After surgery a session can assist in accelerating physical healing, reducing or eliminating pain, facilitating the bodily process of detoxification from anesthesia or drugs, and releasing any emotional trauma associated with the surgery and its aftermath.
Promote spiritual growth
Feeling stuck? Lack direction? Energy blocks can contribute to a sense of lack of purpose or meaning, and clearing away the energetic "fog" can help restore your sense of direction in your life and enable to better chart your path. Taking a class in Reiki or shamanism can yield additional benefits on a daily basis.
Click here to read healing stories.
---
What Happens During a Session?
Sessions are available worldwide by phone consultation for people and animals. We begin with a detailed intake, followed by energetic analysis and intuitive communication, which serves to guide the direction for the rest of session.
Modalities incorporated may include shamanic, Reiki or other clearing practices designed to remove layers of physical, emotional, or spiritual issues affecting and preventing growth, change or freedom from physical or emotional pain.
Click here to schedule a session.
---
What is Reiki and Shamanic Healing?
Reiki and Shamanic Healing are forms of energy healing, ancient and powerful methods of natural healing used today in conjunction with, or as an alternative to, traditional medicine, that restore the balance among the physical, emotional, spiritual, and mental levels of all living beings. At the soul level they can also effect reconnection among all spiritual beings (animals included) and the universe. Energy healing is useful in maintaining as well as restoring balance—you don't need to be in a state of dis-ease to benefit. Our practice incorporates several complementary modalities: Reiki, Peruvian and other shamanic practices, animal communication, Qi Gong, and Acutonics®.
Every living being possesses an internal and external energy field. Energy healing modalities address the energetic and physical systems by releasing blockages and past wounds and restoring balance—thereby facilitating physical and emotional healing and spiritual growth, allowing you to fully step into who you are becoming. Energy healing can be helpful for chronic situations where nothing else has been effective. See personal stories/testimonials.
Our clients are varied, from smaller beings—cats, dogs, birds, reptiles, fish, to the very large—horses, jaguars, elephants, and of course, humans.
Click here to see FAQ About Sessions.
Want to know more?
---
Client Stories
"It's not so easy to see things when they happen gradually, but I've got my puppy back."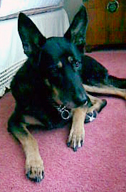 Last year my 14 1/2 year old German shepherd dog was slowly but surely going downhill. No illnesses, she gets regular blood testing done but she lost some weight, had very painful arthritis and was depressed and downcast. She tended to stay away from the family.
Late in the year, she had a seizure; was on the couch but was still and frozen for about 5 minutes or hours. When she could move again we went to the vet who could find no evidence of a heart attack or a stroke.
I had read Rose's book and blogs and felt her to be a very caring and Gifted Healer. While I had sent and received healing energy in shamanic circles and knew how powerful a help it could be, I was a little skeptical about work over thousands of miles (I live in Georgia). But I felt that if anyone could help, she was the one, and so I scheduled a phone session.
—Kathy Dunn, Norcross, GA
"I was skeptical that distance Reiki sessions could work…"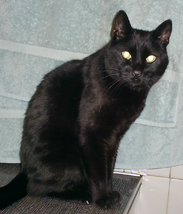 My first experience in working with Rose when my own cat Ziggy was diagnosed with end stage lung cancer. While I had a little experience with Reiki I had never worked with anyone who did distance work and I was a little skeptical.
For Ziggy's first treatment he sat on my lap and Rose worked with him while we were on the phone together. I could feel him relax under my hands and his breathing got better in a matter of the first few minutes. He even went and ate a little food after his treatment, which he had not been able to do before it.
—Lena McCullough, veterinary acupuncturist, Seattle, WA
Click here to schedule a session.
---
People Stories
"Looking back over the time I've been working with Rose, I see a shift in my life."
I look forward to each session with Rose because I know I will come away with new insight and a renewed state of natural calm.
Rose's practice is grounded in respect and trust, providing a safe place to explore my life, health and relationships. She offers guidance with the clear intent of being constructive and non-judgmental, all while bringing her considerable gift to bear on opening channels for positive change in my life.
—Jane C., Seattle, WA 
TRANSFORMATION
"I am feeling more alive and complete than ever before."
Sessions with Rose are invaluable in getting life back into life. Things that were buried for over 40 years have been released and I am feeling more alive and complete than ever before.
I feel like the sessions were a key that has now unlocked my ability for having more fun in life, bringing in romance and having a more successful business. Thank you so much for your support in getting me here.
—Vicki D., Seattle, WA
Click here to read more People Testimonials.
---
This is what I'm all about:
Service
My practice endeavors to support animals and people in their healing processes: to aid in accelerating healing, reducing pain, and facilitating balance. As a pampamesayoq (earth steward) I also build bridges of understanding between people and animals, assisting in healing of the self and the world.
The heart of my work is restoration of balance, or bringing relationship back into ayni. That which is blocked is unblocked (tracking and releasing energy), that which is missing is returned, all with permission and in harmony and accordance with the client's will and intent, whether animal or person. Each of us is accountable and responsible for our actions and selves, the healer is only the facilitator, the client drives the session.
"Unleash your animal spirit. Think outside the cage." — Rose De Dan
Click here to schedule a session.
---
Save