Reiki Energy Healing for Animals and People
Connect > Communicate > Heal >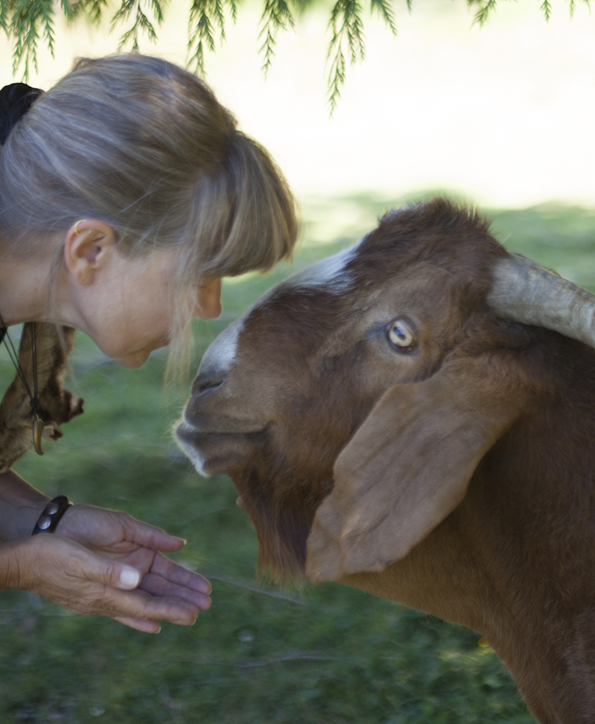 Do you feel a special connection to animals?
Reiki will take it to the next level.
Imagine…
• creating a stronger connection with animals
• increasing your ability to communicate with them
• offering them a loving, gentle form of emotional and physical healing and support
Reiki can help you do all of these things. Reiki restores balance between the physical, emotional, spiritual and mental levels for all living beings, enabling the body to do what it does best—heal itself. These healing benefits can be extended to people, animals, trees and plants, as well as your own self-healing (see How do I love Reiki? Let me count the ways…) Reiki can also facilitate spiritual connection.
If you think animals like you now, wait until they discover you've got Reiki—you'll become an animal magnet!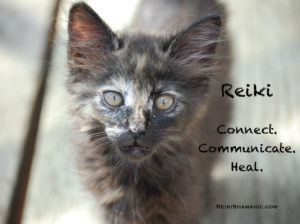 Learn Reiki at home…easily and comfortably
Our live six-week teleclass series allows you to learn Reiki in the comfort of your own home. Each class is comprehensive, yet very easy to learn thanks to our detailed handouts and individual support.
What you'll learn:
• how to offer Reiki to your animal companions or rescue animals
• how to offer Reiki for family/friends for daily support, illness or emergencies
• how to practice basic energy healing techniques for personal protection and self-care (not included in most Reiki classes)
What you'll experience:
• profound personal benefits for self-healing
• growth in confidence and intuitive awareness
• enhanced animal communication skills
You'll also receive:
• detailed class outline and handouts for easy tracking and recall
• personal guidance and mentoring on our private Facebook Forum
• example photos and text for reference with Reiki sessions
• mp3 recordings of each live class that you can refer to, at any time—forever
• Reiki Level 1 Attunement
• Reiki Level 1 Certificate upon completion of all requirements
How it works
Each week you'll dial in or connect through the internet for a live, 60-90 minute training call, with ample opportunities for Q&A both during the call and afterwards in our private Facebook forum. Each class includes in-depth handouts and a recording of the call for repeat listening and future reference (or handy make-up if you have to miss a class).
In between classes, you will receive assignments designed to give you practical experience and build your confidence. Training includes attunement to Reiki Level 1, which opens the energy channels and enables the student to connect with the Reiki healing energy.
The result: a strong foundation in Reiki
By the end of the six-week series, students will have received a strong foundation for growing their Reiki skills, will understand the basic concepts of Reiki energy healing, and be able to conduct a Reiki healing session for a person or animal.
Students who successfully complete all class assignments by end of training will receive a Reiki Level 1 certificate.
Your Instructor: Rose De Dan
Reiki Master Teacher, Shamanic Healer, Animal Communicator
Rose developed this teleclass to provide each student with an in-depth introduction to the basics of Reiki energy healing, including comprehensive materials and personal attention. Having taught Reiki classes since 1996, Rose has amassed a wealth of past experiences, helpful examples, and stories that she loves to share with her students to provide added insight and guidance on all facets of energy healing.
For more information on what Reiki is and the benefits for animals and people join me for audio What is Reiki?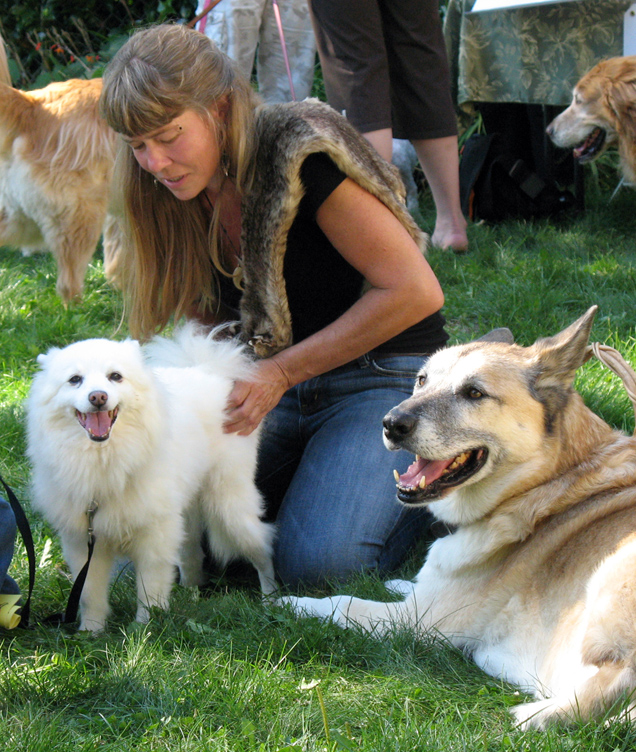 ---
Frequently Asked Questions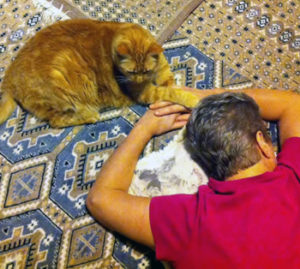 FAQ: Will I get as much out of a teleclass as an in-person training?
After 18 years of teaching in-person, I wondered the same thing myself, and what I found was that students can actually get more out of the teleclass since I can deliver information and guidance/mentoring each week for one hour and the students get to contemplate and practice rather than having to take in everything all at once. In addition they also have the recordings for reference any time.
FAQ: I've never taken Reiki training before, is this class for me? I'm already a Reiki practitioner, can I attend?
This class is intended for anyone who has not previously taken Reiki training or Reiki practitioners who would like a refresher.
FAQ: Are these seminars we watch or is there interaction?
These are live telecalls, so you are on the phone or listening on the internet. There are pdf file handouts with photos to illustrate certain points. There is time at the end of each call for questions, and there is also a private Forum on Facebook for further sharing and mentoring.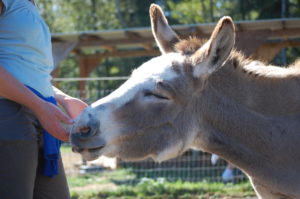 FAQ: How do I attend the calls and receive handouts?
When you register you will receive an email with instructions on how to attend the first call by phone or internet. Each week thereafter I send out an email with instructions for class the night before. After each call I also send an email with pdf files containing handouts as well as a link to the recording for reference or for those who were unable to attend live.
FAQ: My work is directed more to humans than animals, do you think your training would be the best route for me?
Training is designed so that students get a firm foundation in working with people and animals. It begins with Reiki for self-healing, next is Reiki for other people. From there we take the next step to working with animals in one specific class.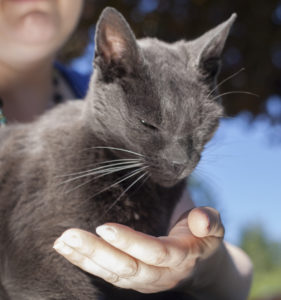 FAQ: I missed the first class, can I still register? What if I can't be on the call live for one class date?
Each live class is recorded, and all students receive a link to the recording within 24 hours afterward. If you were unable to register in time to attend the first class you can very easily catch up before we start week 2. Registration will close shortly before the second class until the next Reiki 1 training session is available.
FAQ: Will I receive an attunement during the class?
Yes, attunements to Reiki Level 1 are included in the teleclass and is sent live to each student during one of the calls. The attunement process opens the energy channels enabling the student to connect with the Reiki healing energy.
FAQ: Do you offer a Reiki Level 2 class?
Yes, I also offer training in Reiki Level 2 as a teleclass series.
For more information on what Reiki is and the benefits for animals and people join me for audio What is Reiki?
Got questions? We're happy to answer them, send us an email.
---
What Students Say
"The Reiki Level 1 class with Rose was fantastic."
The online format where the lessons are spread out over several weeks really allowed the information to sink in at an accessible pace – plus I got 6 weeks of teleclasses where I could listen to Rose tell stories (that may have been my favorite part, she is an amazing and compelling storyteller). Rose has such a love of Reiki and that comes through in everything she does. It's infectious and definitely helped really ignite my love and practice of Reiki. Thank you so much Rose, for the wonderful class. I will definitely be back for more! 🙂
—Becky MacPherson, WA
"Thank you so much for the awesome class."
It was definitely more than what I had hoped for. My tuxedo trio are extremely grateful and have been lining up every night for some more Reiki love. 🙂
—Lynda Lehrke, WA
"I am excited about deeper connections with animals."
Rose is calm, and her spiritual energy comes through even in a Teleclass. She is a knowledgeable, organized teacher who answers every question with clarity and purpose. She makes what could be easily doubted become confidently real. She has a wonderful sense of humor and tells great stories of her experiences that give hope to beginners in this field.
I loved that there is a formal process to learn what I have been trying to do since my first bird rescue in primary grades. I loved that I found a teacher who is ethical and trustworthy and immensely talented and qualified, and I am excited about deeper connections with animals.
I thought Reiki class might be better in person, but now I think the opposite: the Teleclass is free of distractions, kind of distilled and concentrated. I would definitely take another.
—Elaine Livingston, CA
"Since I have taken the Reiki 1 class I am more confident in myself."
Rose is the best teacher ever! I can hear and feel the passion and compassion she has for what she does. The stories are the best, they help me out at times when I have question or was uncertain about something. Rose is totally dedicated in what she does and that gave me confidence to know that I also can pursue my passions in life and share them to help others.
Reiki has been of great benefit in my life. It has taught me that I need to take care of myself first so that I am at my best to be able to help others.

—
Vivian Robertson, CA
"The information was easy to understand and incorporate into my life right away."
Rose's teaching is simple, accessible, respectful, and encourages exploration. I enjoyed the ability to listen to the recorded calls and refer to them again for clarification if needed. The information was easy to understand and incorporate into my life right away.
I have used Reiki for pain relief for myself, and my family, with success. The animals that have asked for Reiki ask for more so I take that as they like it! My biggest surprise has been my husband requesting Reiki—that is big!
Self-reiki has become part of my meditation as well. I feel another layer of depth in my life in the journey—more groundedness, more sense of interconnectedness.
Thanks for your support and sharing your knowledge and stories. We have a large supply of in-house Reiki classes here, but for some reason, I kept getting the feeling to wait. My higher self seemed to know to wait for your class and I am so glad I did!
—T.F., Wisconsin
"Having had a couple VERY powerful healing results by doing Reiki for friends, I am impressed with the healing power of Reiki."
I enjoyed the fact that I could remain at home for the class, in a relaxed atmosphere, with no driving responsibilities before and after class to distract my learning.
Performing self-Reiki daily has brought me additional serenity and I definitely feel more grounded during the day. A noticeable difference! And both my cats are more relaxed and seem obviously receptive to Reiki now.
Having had a couple VERY powerful healing results by doing Reiki for friends, I am impressed with the healing power of Reiki. I was not aware of this before the class.
My friend was injured on the basketball court and unable to walk without crutches. Physicians said his calf injury (major swelling, extensive bruising, pain) would take 5-6 weeks at the best, to heal enough to walk without crutches. I gave him three Reiki sessions (10-15 minutes each) in one week and he had MAJOR healing results: by the end of the 3rd session he was walking without crutches, except for long distances. Also the swelling reduced by a good 80%, and the bruising almost disappeared. He truly thought it was a miracle and I too was astounded. Reiki was a very powerful and effective healing tool, even with a novice like me!
Thanks, Rose. I love your calm approach to teaching and your storytelling. You really set a nice tone for learning!
—Nancy Rothwell, Seattle, WA
"I feel a closer connection with my animals."
I use and think about Reiki everyday. More for the animals than human though. I feel a closer connection with my animals. I feel that they connect or love me more, if that makes sense.
I enjoyed the new "connection" techniques, like the breathing and grounding. I carry that forward in everyday life, including drawing my energy from source. I feel more connected, more grounded, or can re-ground much quicker if I catch myself "floating." Since the course I also have more faith in myself and my abilities.
I loved everything about your class, Rose. I've always connected with you, what you've had to share and how you view the world and our beautiful animals.
—Shona Forbes, Australia
"I truly recommend Rose's Teleclass to anyone interested in learning Reiki!"
Rose is an excellent teacher, I thoroughly enjoyed her Teleclass. I have been a student of Reiki for 7 years, and received Level 1 attunements from three different Japanese Masters. This time was the fourth Level 1 attunement for me. Although remotely, Rose's attunement energy was so profound and distinct, I absolutely felt a shift. I have also learned many new techniques that I had never knew before during the class. I truly recommend Rose's Teleclass to anyone interested in learning Reiki!
—Ai Ito, Taiwan
"Rose, you are the best."
Having been sent a link, by a friend, to an article written by Rose I found myself on a fascinating and very interesting website and commenced another step on my journey.
Her website mirrored my own thoughts and desires to be able to communicate with animals, and Rose was about to commence a Reiki 1 Teleclass. This was something I really wanted to do but due to business commitments I could not get away from my job, so a teleclass seemed like a good option.
I found Rose to be a natural teacher—she illustrates her teaching with many true stories which exemplify what she is saying making it so easy and interesting to understand. Because of the way she teaches, her students do not forget anything, there is always a story to think of to use as a reminder and, of course, there is always the recording to refer back to. I would recommend this Teleclass to anyone wishing to do their Reiki 1 with an excellent teacher who will always answer a question speedily and with a very genuine wish to do the best for her students. Rose, you are the best.
—Su, Scotland
To read more Reiki stories and testimonials click here.
---
Registration for Reiki Level 1 Teleclass
Where: Worldwide
When: Wednesdays, October 18 – November 22, 2017 at 6:00 p.m. Pacific
Registration for this class means a commitment to all six classes.
OPTION 1: Reiki Level 1 Single Pay Plan
Choose one payment for all six classes. Payment available with Visa, MC or PayPal (choose PayPal credit card option for payment with Amex or Discover). PayPal also offers a payment plan option. Confirmation will be sent after registration along with instructions on how to join the first call. If you were unable to register in time to attend the first class live you can very easily catch up with the recording. Final deadline for registration is 6:00 p.m. October 24.
Single Pay Plan: $250.00
OPTION 2: Reiki Level 1 Six-Week Payment Plan
A weekly payment plan makes budgeting easier. After your 1st payment of $44.00 your credit card will be automatically billed* the same amount weekly for 5 additional weeks. Payment only available with Visa or MC. This payment plan is only available until 6:00 p.m. October 17 (the day before the first class). After you register you will receive confirmation by email along with instructions on how to join the first call.
Six-Week Payment Plan: $44/week
*Cancellation policy: we understand that sometimes things happen, should you need to withdraw from the class a refund (less $75) is available with notice no later than one week before class, after that no refunds can be given. Payment is non-transferable to any other class, product or offering by WRSH.
Save
Save