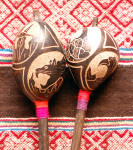 These magnificent gourd rattles with chonta wood handles were carved by an Peruvian Amazon artist, and are as powerful and beautiful as they are durable.
Each rattle has four one-of-a-kind hand-carved designs representing the Peruvian archetypes or 4 Directions: Serpent/South, Jaguar/West, Hummingbird/North, and Condor/East.
Chonta wood handle is decorated with colorful cotton thread wrap (colors vary).
Medium rattle is …Continue reading