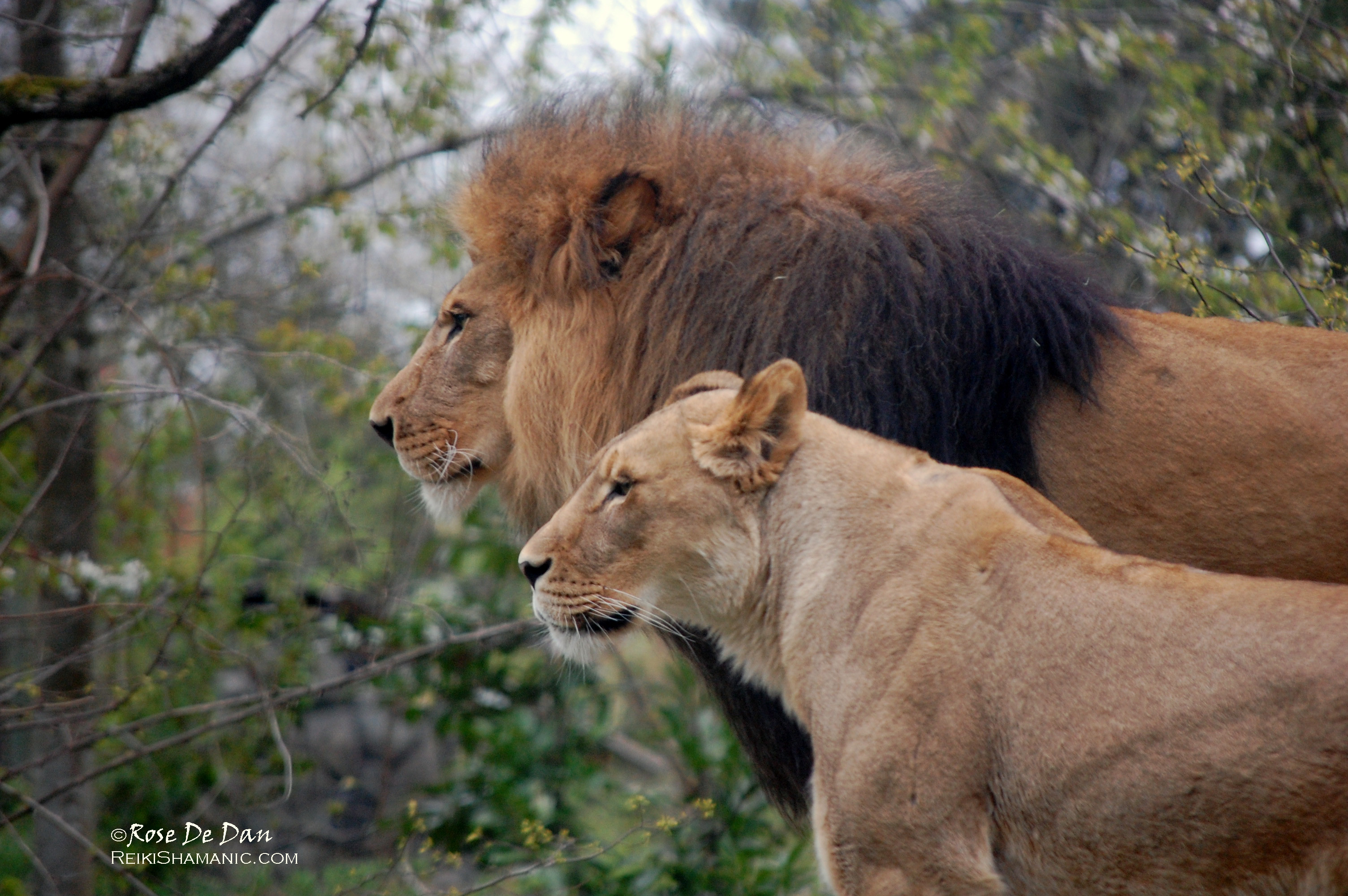 "When the animals share with us who they are,
they also show us the way back to who we are."
—Rose De Dan, Wild Reiki and Shamanic Healing
Join energy healer/animal communicator and author Rose De Dan for a unique storytelling time for animals and people.
Each month you and your animal companions will be able to listen to true stories that celebrate animals as friends, teachers, guides and healers.
Sacred space will be open in the Peruvian shamanic tradition for the highest possible support from spirit animal allies, and Reiki energy will be present as well. Animal communication skills/images will be incorporated in the telling of each story so that all species may enjoy them. The combination assists in fostering stronger connection with your animal companion(s), offers an opportunity for personal healing, and aids in creating deeper connections with All Our Relations.

The stories originate from Rose's own personal experiences with animals and animal teachers over the years, with a view to inspiring, entertaining, and creating shift and change. They will cover a broad range in tone—from poignant and deeply personal to humorous, and perhaps downright goofy!
Most stories will be original, i.e. not previously written or published, however some may be old favorites since it is likely that your animal companion will not have heard them before. There may also be a shamanic journey from time to time.
Each monthly call will take place on the second Thursday of each month (except for October, which we skip), and will run 30-45 minutes with time at the end for questions, comments, insights.
All calls will be recorded, and you can listen to them again as a replay at any time. There will also be a private Facebook community where participants can share experiences and photos.
Registration enrolls you in the monthly call series, but you can cancel your participation at any time, simply send an email.
Want to listen to animal stories from previous months? Visit Audio Animal Stories.
---
"Beautiful stories Rose, thank you so much for sharing them!"
My cat Gir enjoyed the stories very much! He came over and laid down on the bed near the phone, which I had on speaker, to listen during the first story, and hasn't left yet although he flopped on his side after. And Sassafras pretended not to notice as she was laying on the head board, but she gave herself away from the start when I said, "It's story time, Rose is telling a story!" And she looked up and meowed with clear excitement. I loved them too! Beautiful stories Rose, thank you so much for sharing them!—Claudine Records, FL
"It was a lovely time shared by all."
Your stories last night Rose were powerful and very beautiful, from the heartwarming story of Charlie to the very poignant story of Lady Jane ♥ I was joined last night with my collie Gemma and my cat Kit, my horse Dikales joined in spirit as he couldn't be in the living room w/us 😉
It was so funny, at the start of the call my cat & dog had been play fighting as they do often and sometimes it can escalate …not in a bad way, but more like 2 kids fighting over a toy or a space on the couch….well, Rose when you started the story they came marching in single file quietly….Gemma jumped on the couch next to me and settled in and Kit jumped up on his perch by the window, looking out as if he wasn't listening at first …but I know he was 😉 It was a lovely time shared by all. Thank you so much again and looking forward to more stories!—Mitzi Koch, IL
"Shakes purred the whole time…"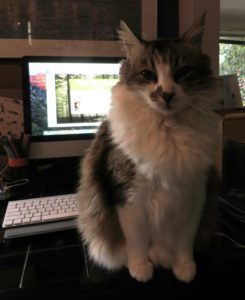 Oh Rose – the stories were beautiful, though I was in tears at the end!! I had planned on playing the replay on the laptop later while on the couch, but my cat Shakespurr told me it was time while I was at the desktop this afternoon. He was so funny – it was time for his stories, and he wasn't taking no for an answer 🙂 So after it got going, we snuggled on the floor with my dog Caesar to listen. Shakes purred the whole time – he would sit a little quietly and listen (and blink), then the purr would get louder … he was truly enjoying himself! Thank you so much for sharing your stories!!—Lauren Psomostithis, WA
"Rose's stories are balm for the soul!"

Every second Thursday of the month is a special night to look forward to in this household, because it's the night we have storytelling for people and their animals with Aunt Rose as we call her here.
This past storytelling evening I was looking forward to hearing more of Rose's stories. Lightning started to light up the sky and cracks of thunder were heard. Dog Gemma started panting and pacing as she does during storms, and cat Kit dove under the couch in the other room.
I lit a candle and settled back to listen. Rose started her story of going cross-country many years ago with her boyfriend in a '63 Chevy and telling us about all the encounters she made along the way.
I feel as though I am there along with Rose, meeting and greeting all the animals from cows to wild burros to cats and dogs. I found myself remembering all the magical encounters that I too have had throughout the years with animals, and am thankful for the gift of each encounter.
Soon Gemma is quietly and peacefully lying by my side asleep and Kit had come out from under the couch and was eating his evening meal up on the counter as usual.
The storms have moved on but there is some distant rumblings of thunder and the occasional lightning strike…but the animals are peaceful & secure and all is well. Aunt Rose's stories are balm for the soul!—Mitzi Koch, IL
---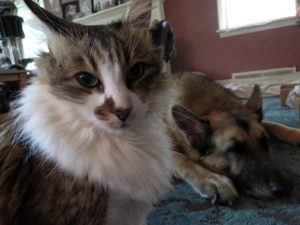 FAQ: When are the monthly calls and how do I attend?
Each call takes place on the second Thursday of every month (except for October, which we skip). When you register you will receive information on how to attend the next scheduled call by phone or internet. A reminder email will be sent the night before each monthly call with instructions on how to attend.
FAQ: Are these seminars we watch or is there interaction?
These are live telecalls, so you are listening on the phone or on your computer.
FAQ: If I am listening on my computer, will I be able to ask questions?
Yes, provided you are using a device that supports a microphone.
FAQ: What if I can't be on the call live?
Each live call is recorded. All subscribers will receive an email within 24 hours afterward containing the link to the recording. You can also ask questions or share your experiences on the private Facebook page, which you will receive an invitation to join.
FAQ: What if I need to take a break from the subscription—can I cancel and resume?
Yes, simply send an email saying that you wish to pause or cancel your subscription and we'll put make it so. When you are ready to rejoin you can email us to resume or register again.
Got questions? We're happy to answer them, send us an email.
---
REGISTRATION
ReikiShamanic Storytelling for Animals and People
When: Ongoing, second Thursday of each month at 6:00 p.m. Pacific. (except for October which we skip)
Where: Worldwide
Registration: Investment per monthly call is $10. After you register you will receive confirmation and instructions by email.
Subscription Plan*
Registration for this ongoing monthly telecall is by subscription, which you may cancel at any time. After your first payment of $10 your credit card will be automatically billed** the same amount every month on the date of your initial registration. Payment available only with Visa or MC.
*Cancellation policy: Payment is non-refundable and non-transferable to any other class, product or offering by WRSH. If you wish to unsubscribe your subscription must be cancelled 24 hours before the monthly telecall in order to receive a refund for that call.
**If for some reason your recurring payment is declined and issue is not resolved within 72 hours you will be charged a $10.00 late fee.
---
About Rose De Dan

Wild Reiki and Shamanic Healing LLC
Rose De Dan is an animal communicator, Reiki Master Teacher, shamanic practitioner, and author based in Seattle, WA. She has been teaching classes since 1996 and has a wealth of stories and guidance on energy healing for animals and people that she shares with her students.
In 1996, while living in Worcester, Mass., she had a life-changing experience during a Reiki class and was gifted with a vision of a healing practice for animals. In pursuing that vision, Rose began to remember her childhood dreams and passion to help animals.
In the process of becoming an energy healer, animal shaman, and voice for the animals, Rose found her practice evolving into building bridges between people and domestic and wild animals. She has been bringing people and animals together in ceremony to co-create a sustainable future since 1998 through events such as A Walk on the Wild Side: Answering the Call of the Wild.
Save
Save
Save
Save
Save
Save
Save
Save
Save