If you dream of deepening your relationship with wild animals…
Experience wild animal communication in a groundbreaking seminar which blends the world of science, animal healing stories, and the ancient healing energy of a shamanic journey—offering a voice to the animals and healing for the people through connection with Wild Animal Teachers.
It was a wolf named Apricot that first brought Susan and Rose together through a video called Energy Healing Wolf.
Rose De Dan, Wild Reiki and Shamanic Healing: "The video itself was an answer to my prayers – to find a place where I could bring people and animals together in ceremony – a prayer that was inspired by a vision that I received while attending a scientific conference on global warming.
"During the vision I was told that science alone would not be enough to reverse the global climate crisis that our world is facing; that we needed to work together energetically, humans and animals, to bridge the rapidly widening chasm that separates us. Only together could we achieve wholeness and avert the crisis that we face. I am honored to be able to hold space in a sacred way for this event so that the voices of the animals I had heard for so many years can be heard by others."
Susan Eirich, Earthfire Institute Wildlife Sanctuary: "Earthfire's vision is to enlarge our sense of community to include all living beings as true members of the community. The rescued wildlife at Earthfire have stories to tell that lead us to a new way of seeing and being in relationship—from a learning disabled grizzly bear to a cougar's spiritual development and healing of humans."
We are all connected, and what affects one affects all.
The Wild Animal Teachers are reaching out to us, they so want to be heard.
Join us to hear their message and let them know we are listening.
(A portion of each purchase goes to help support the animals at Earthfire Institute.)
---
"A very beautiful, healing, call to action."—Lisa McNany, PA
"After Listening to Animal Voices I had to share my experience and impressions with my friends. I knew I had seen and felt something extraordinary."—Natasha Zapata, NY
---
Listening to Wild Animal Voices
with
Rose De Dan, Shaman, Wild Reiki and Shamanic Healing
and
Susan B. Eirich, Ph.D., Eco-psychologist and Founder of Earthfire Institute Wildlife Sanctuary
WORLDWIDE DIGITAL AUDIO SEMINAR
>>>>>>>>>>>>>
The wild animals so want to be heard, and they want you to learn how to communicate with them on an ongoing basis. For greater ease of listening and future reference, the recordings are offered in two roughly half hour sections making it easy to listen to the shamanic journey again for future messages from the animals.
SECTION 1: Introduction, Stories of Wild Animal Communication, Intro to Journey
SECTION 2: Wild Animal Communication Shamanic Journey to meet your Animal Teacher, Animal Messages, Summary
Recorded class is available in two formats (supplied with your order confirmation):
1. MP3 digital download of audio class for any of your devices that support digital audio
2. Links to listen to online audio class
---
REGISTRATION DETAILS
Where: Worldwide via digital audio (mp3) or online at your convenience.
To Register: Payment available by Visa, MC, and PayPal (use PayPal credit card option if paying with Visa or Discover). Payment is non-refundable and non-transferable to any other class, product or offering by WRSH. After payment you will be sent an email confirmation with your choice of links to download or listen online.
Listening to Wild Animal Voices
Digital Audio Seminar: $7.00
(A portion of each purchase goes to help support the animals at Earthfire Institute.)
>>>>>>>>>>>>>
Who We Are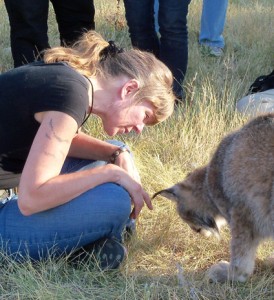 Wild Reiki and Shamanic Healing LLC
Rose De Dan is an animal communicator, Reiki Master Teacher, shamanic practitioner, author and artist based in Seattle, WA.
In 1996, while living in Worcester, Mass., she had a life-changing experience during a Reiki class and was gifted with a vision of a healing practice for animals. In pursuing that vision, Rose began to remember her childhood dreams and passion to help animals.
In the process of becoming an energy healer, animal shaman, and voice for the animals, Rose found her practice evolving into building bridges between people and domestic and wild animals. She has been bringing people and animals together in ceremony to co-create a sustainable future since 1998 through events such as A Walk on the Wild Side: Answering the Call of the Wild.
>>>>>>>>>>>>>>>>>>>>>>>>>>>>
Susan B. Eirich, Ph.D., Executive Director, founded Earthfire Institute in 2000 to develop a new model of relating to nature; to give a voice to wildlife and help people find their own natural voice.
"When I was about five years old I remember asking my mother about why animals didn't have equal rights to humans. Studying for my Ph.D in psychology, a scrawny kitten crawled on the farm where I was living and I experienced the deepest love of my life. I hadn't even had an affinity for cats. It was the beginning of growing into an awareness of the profound connection that is possible with animals that continues to expand and amaze me."
Living with bears and wolves, cougars and coyotes, foxes, badgers, buffalo and more, Susan uses this unique opportunity to deepen and share her understandings of wild animals, with the goal of forging a richer relationship between these wonderful creatures and humans.
A licensed psychologist, biologist and educator, she has taught at universities around the world, worked in maximum security prisons, developed a university counseling center, directed a Nature Conservancy Preserve, and lived in remote corners of Nepal, the Mid- and Far East, the Northwest Territories and the Amazon rainforest.
Her goal is always to see through other's eyes as a way to enhance understanding between cultures, peoples and species.