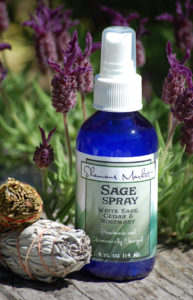 Smudging is a time-honored method of clearing hucha (heavy energy) trapped in a person's energy field or space. Indigenous cultures worldwide ask the spirit of the plant for assistance before using the smoke to cleanse and purify. But the pungent, smoky scent of the herbs can linger indoors.
White Sage Spray is a portable, smoke-free alternative for clearing energy fields or spaces of hucha on a regular basis. Sage Spray can be used for smudging anywhere you can't have smoke, flame, or embers such as medical settings, office spaces, corporate board rooms or animal shelters, stables, kennels, etc.
Made with sage, cedar and rosemary essential oils, spray is all natural. Created with a blend of herbs that the maker was guided to use by spirit allies, each spray is individually hand-crafted and shamanically blessed in ceremony with energy and intention. No animal products. No animal testing.
Sage Spray draws upon the powers and energies of the plant spirits within them to clear and balance the energy of a space or a being's energy field to facilitate peace and healing.
Acupuncturists, massage therapists, shamanic, Reiki and other energy practitioners can use before and after every healing session which benefits both healer and client. Fan the mist over yourself to cleanse your personal energy field. Spray in an area to purify energy.
White Sage Smokeless Smudging Spray | 4 oz: $19.95 (U.S.) — Add to Cart