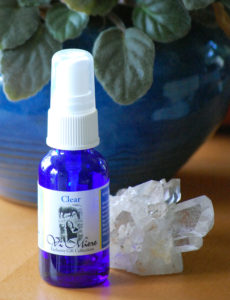 Do you feel energetically drained when you leave work?
Do you feel mentally and physically exhausted?
Does your day-to-day life exhaust you?
Is your animal companion struggling?
Smudging can help.
Smudging is a time-honored method of clearing hucha (heavy energy) by asking plant allies for assistance by burning herbs and incenses such as sage, cedar, or palo santo wood.
Vi Miere mists are individually hand-crafted from a combination of crystal, mineral, nature and flower essences and are created for both people and animals. Clear Essence Mist is a portable, fragrance-free, smoke-free alternative for clearing energy fields or space of hucha on a regular basis.
Hucha is dark and sticky, and clings to our external energy fields. Without routine smudging hucha can gradually work its way into our internal energy body, and once entrenched is much more difficult to extract and can impede the flow of our body's natural energy systems. Over time blockages in the energy flow can result in physical illness. And what affects our energy fields also affects our families, both human and animal (see Stress Busting 101).
Clear mist can be used for smudging anywhere you can't have smoke or embers such as medical settings, stables, kennels, shelters, office spaces, corporate board rooms, etc. This easy to use mist is also a wonderful alternative for people who are sensitive to fragrances or smoke since it is odorless.
People from all walks of life use Vi Miere's Clear with great results. Cubicle workers, hospital employees, love using the mist because it is effective, easy to use, easy to carry which means that it can be used practically everywhere. For example in hospital settings, where workers are exposed routinely to a lot of heavy energy and often don't have time for extended breaks, Vi Miere Clear mist can be carried in a pocket for discreet use at any time. A little spritz is all you need!
Energy workers, massage therapists, acupuncturists and other therapists can use Clear on their healing space and themselves before and after every healing session which benefits both healer and client.
And Clear can be used before going to bed for calmer, more restful sleep, and upon waking to greet the day energetically refreshed.
$19.95 1 oz Add to Cart
$36.95 2 oz Add to Cart