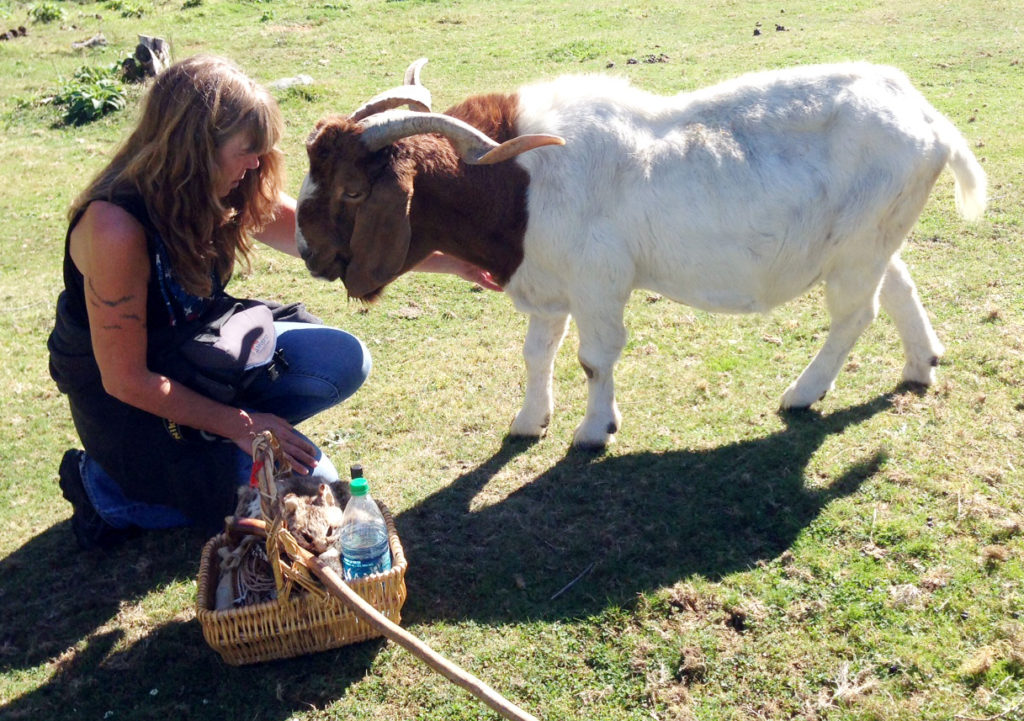 For this advanced training I teach students how I work with animals, combining Reiki and shamanic modalities with a dash of animal communication.
The intention of the class (with the assistance of spirit allies) is to empower each student with confidence and a strong foundation in energy healing for animals of all species.
Prerequisites: Successful completion of Reiki Level 1 and Reiki Level 2 with Rose De Dan, plus Bones, Stones, Feathers and Fur shamanic teleclass.
What you receive:
• 13 weekly 60-90 minute telecalls lay the foundation for combining Reiki and shamanic practices for working with animals, and are recorded for future reference.
• Videos with commentary and stories of real-life sessions with a variety of animal species at animal rescue/sanctuaries
• Personal mentoring on private Facebook group page
• Animal ReikiShamanic certificate suitable for framing after successful completion of assignments
Student commitment:
• Registration for this class means a commitment to all classes. Attendance and full participation in all the classes either live or via recording is required, as well as on private Facebook page.
• There are weekly assignments and practice in the form of case studies. The ability to video practice sessions is a requirement.
In order to offer each student the highest level of personal guidance this class is limited to six students.
---
FAQ: Will I get as much out of a telecall as an in-person training?
After 18 years of teaching in-person, I wondered the same thing myself, and what I found was that students can actually get more out of a teleclass since I can deliver information and guidance each week in digestible chunks rather than having to take in everything all at once. In addition you also have the recordings to refer to at any time.
FAQ: Are the telecalls seminars that we watch or is there interaction?
These are live telecalls where you have the option to listen on the phone or on the internet. There is time for questions, and there is also a private Forum on Facebook for further sharing and mentoring.
FAQ: How do I attend the calls and receive handouts?
When you register you will receive an email with instructions on how to attend the first call by phone or internet. Each week thereafter you will receive a reminder email with instructions for class the night before. After each call I also send an email with a link to the recording.
FAQ: What if I can't be on the call live for one class date?
Each live class is recorded, and all students receive a link to the recording within 24 hours afterward.
---
REGISTRATION
Animal ReikiShamanic
Where: Worldwide
When: Fridays, January 5 – March 30, 2018 at 9:00 a.m. Pacific
Registration for this class means a commitment to all classes.
OPTION 1: Animal ReikiShamanic Single Pay Plan*
Choose one payment for all classes. Payment available with Visa, MC or PayPal (choose PayPal credit card option for payment with Amex or Discover). After you register you will receive confirmation by email.
Single Pay Plan: $1500
OPTION 2: Animal ReikiShamanic Weekly Payment Plan*
A weekly payment plan makes budgeting easier. After your 1st payment your credit card will be automatically billed* the same amount weekly for 12 additional weeks. Payment only available with Visa or MC. After you register you will receive confirmation by email.
Weekly Payment Plan: $120
*Cancellation policy: Payment is non-refundable and non-transferable to any other class, product or offering by WRSH. All fees will be refunded if training is cancelled for any reason.
**Declined payments will result in a $25.00 late fee.