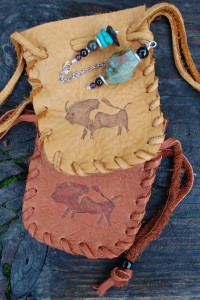 The Ancient Ways series of medicine bags feature hand-sketched images inspired by prehistoric cave paintings which are burned onto the leather. They were created under the guidance of Spirit to help restore the ancient, spiritual connections between people and animals.
The bison image was inspired by The Crossed Bison cave painting found in Lascaux Cave in France. In combination with the energies of the bison ancestors, each medicine pouch is blessed by the Bison Elders and the great bison herds living in Yellowstone National Park and on the Blackfeet Indian Reservation.
These roomy double-drawstring medicine pouches are hand-crafted and can be used to organize, protect, and honor your pendulums, crystals, carved fetishes, stones, jewelry or other natural medicines or allies. (Note: stones or pendulums shown are only for demonstration of scale – they are not included in purchase of pouch.)
Each bag is uniquely one-of-a-kind and is crafted from soft elk skin leather and measures approximately 4 inches high and 3 inches wide, and drawstrings are decorated with pony beads. The color and texture of each hide will vary since elk hides are a product of nature—blemishes and scars are part of the natural character of the leather.
Not available for shipment outside the U.S.
Pouches are available in a choice of color:
Saddle Ancient Ways Bison Medicine Bag – $15.00 | Add to Cart
Tobacco Brown Ancient Ways Bison Medicine Bag – $15.00 | Add to Cart