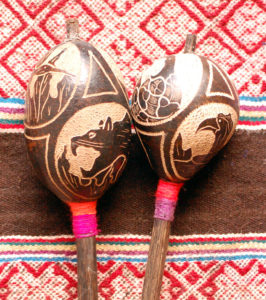 These magnificent gourd rattles with chonta wood handles were carved by an Peruvian Amazon artist, and are as powerful and beautiful as they are durable.
Each rattle has four one-of-a-kind hand-carved designs representing the Peruvian archetypes or 4 Directions: Serpent/South, Jaguar/West, Hummingbird/North, and Condor/East.
Chonta wood handle is decorated with colorful cotton thread wrap (colors vary).
Medium rattle is approx. 9.5″ high, and 7 1/2″ around; large rattle is approx. 10.5″ high and 10″ around. Each rattle is unique – size and shape of natural gourd varies as does sound and design.
Not available for shipment to Australia.
Medium Four Directions Rattle: $22.95 (U.S.) — Add to Cart
Large Four Directions Rattle: $25.95 (U.S.) — Add to Cart
Save