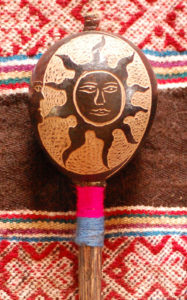 These magnificent gourd rattles with chonta wood handles were carved by an Peruvian Amazon artist, and are as powerful and beautiful as they are durable.
The realm of the universe in one rattle with a hand-carved radiant Moon/Sun design on one side, and the Andean Cross or Chakana on the other.
Chonta wood handle is decorated with colorful cotton thread wrap. Rattles are approx. 10″ high and 8″ around. Each is unique – size and shape of natural gourd varies as does sound and design.
Not available for shipment to Australia.
Moon/Sun/Chacana Rattle: $20.95 (U.S.) — Add to Cart